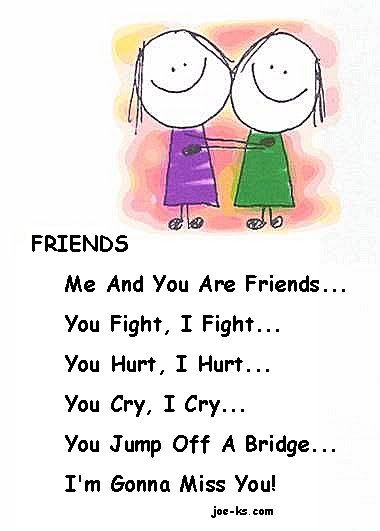 Is she home? Can I go over and see her? Is she all right? I'll text her! No, not a good idea. The last time he replied. Yes, he replied on her behalf from her mobile phone. As it is I don't feel at ease around when he's there. He's cool though. He makes jokes and is quit talkative. He laughs a lot. He's nice really. I don't like him. But it does not matter. She does. She does so much that am starting not to miss seeing her. Because when I do she only talks of him. It's starting to get to me. Why? Because am starting to wonder if she and me ever had anything in common. But we must have.
We used to be together, studying together, eyeing guys together, and making up stories of what our future would be like together and vowing to remain always friends. Friends forever. We made silly friendship pacts. We wrote in each other's memo diaries. Calling each other "Sister". Crying at the prospect of an eventual separation.
Now, no more. We've grown up. We've changed. She has and I have to.
Yesterday despite the fiancé I'd have been visiting at her place, today I can't ring myself to go there. I sit and wonder how it would be like when they'll get married? Not very different from now I tell myself. They're as good as married now.
Am I jealous? I think about all my other friends with whom and whose husbands I have a super good relationship. No, am perfectly all right.
It's that fiancé, he's eating her.