When I was eight I went to spend the night at my mum's friend. She was a neighbor, had no kids and her husband had gone abroad. As far as I could remember that was the first time I'd slept over at anyone's place. I must have before that but I don't recall any of the previous sleep overs. I still remember and will always will this one.
Aunt N was so happy to have me over. She asked my mum to let me come a bit early. I was there at five. She made me her famous chocolate chip cookies which I loved. She did not fear me spoiling my appetite like my mum. That was super cool. She made yellow rice (she actually added saffron, which I did not know then) and beef stew. It was yummy. She even let me stay late for TV which wasn't that late since TV ended at 10 sharp on week days.
I was a very curious kid - still is, curious I mean - and asked her questions non-stop. She obliged and seemed really happy to converse with me. I felt so grown up.
Later, after bath and wearing my pajamas, I jumped into her huge bed where she spread her wedding pictures which I'd seen before but quickly because the mums wanted to see them and it wouldn't have been polite to take one's time. Now, they were all mine. I asked questions about each and every picture. I was mesmerized by her pictures in her wedding dress. I'd never seen anyone in a black wedding dress before. I asked her about it and she went to her wardrobe asking me to shut my eyes till she told me otherwise. I did. When I opened them she was holding the dress against herself. The black glittering fabric looked weird against her white pale skin and her blondish hair. With brutal children frankness I remarked that she looked like she were in mourning. She smiled but she did not look pleased. She put it away and said Sleep time now. She switched off the light and got in bed.
She started telling me a story which bored me. I asked her how they met, she and her husband. Surely, that was more interesting that the rabbit tale she was telling me. She laughed and said that they did not meet. Then how did you get married I asked, puzzled. She explained that he saw her, came to ask for her hand. She saw him the day he came. He pleased her. They got married. This bored me too.
What do you want to do when you grow old? She asked.
Study.
And then?
Go to University I guess.
And then?
Become a doctor.
Why?
Because I think doctors look real classy and they are liked by people.
Hummm..
I felt so good to be able to talk to an adult so freely. She's so cool I thought.
And then? She interrupted my thoughts.
Get married and have babies.
Silence.
She's fallen asleep, I told myself.
The next day over lunch my mum asked, What did you tell N last night huh? Eight years old girls don't think about marrying and having babies. They concentrate on their homework, don't stay up late or TV and quit eating chocolate chip cookies all the time.
I felt as if someone was squeezing my insides. I felt a pain in a my heart. The food I was eating was suddenly tasteless.
Later, when I grew up, I realised that that was the day I got my first taste of broken trust.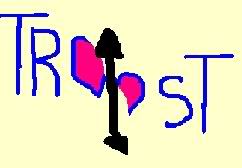 Tags: C'est la Vie :.: Fiténa :.: Children :.:Adults :.:Broken Trust :.: Trust :.: