People don't listen to themselves speaking. Nor do they listen to you. If they did, they'd have spent their whole lives laughing at themselves. If they've got a sens of humour that is!
It's amazing how nonsensical and unintelligent we are sometimes. I guess it's because no one takes the trouble to think twice before uttering anything. The examples are innumerable so I shall just mention a few here.
A month ago, E and me had a lunch date. After lunch I walked her to the post office. On the way we stopped at a street t-shirt seller's to have a look. While E and me were bargaining, K, a school friend happened to walk by. We hugged and kissed how do you do. I introduced E and K seriously asks me Is she your friend? Yes I solemnly replied.
I was actually thinking, No, I just saw this girl bargaining for a T-shirt, thought I'd help her because I thought she looked cool and asked her her name just in case someone I knew would walk by for me to introduce her.
Now, why did she even have to ask me that huh?
I went to a friend's wedding and met another friend whom I hadn't seen for a while there. We kiss and she says Friend invited you. No, she did not say it, she was asking. I didn't think she was serious so I just smiled.
Yes, because what would I have been doing there in my best attire with a gift for the bride?
We went to watch Invisible Man a couple of years ago. If you've seen it then you'd remember the lift scene where the heroine manages to push Invisible Man down in the fire where he stews. Anyway, everyone knows that Invisible Man is dead at this point. He's finished. Mort. Muerte or whatever. G sitting next to me whispers Is he dead. Am so into the movie I don't answer. I think he's just making a statement. Furious whispers and definitely a question Is he dead? Now Invisible Man is stewing and the heroine looks relieved. G grabs my arm to draw my attention Is he dead??? Am a very mean person so I let him simmer in what he's living as a suspense when the whole cinema knows that Invisible Man is gone to lala land. Is HE DEAD? Am feeling sorry for G who looks like he's going to cry. I wait a bit but now the heroine is out of the building and the rescues are there and the movie is coming to an end. I look at G and say Yes, he's dead G, he's dead. See, the movie has ended. He glares at me and says I know, what do you think I am, stupid?
I raised an eyebrow.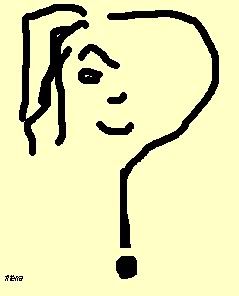 Tags:

C'est la Vie

:.:

Fiténa

:.:

People

:.: :.:

Talking

:.::.:

Listening

:.: :.:

Questions

:.: