He picked up the phone and dialled. It rang. He pulled at his hair. It hurt but he didn't care. Somehow, hurting himself made him better because he felt something then. He wondered if things would have to go to that extent and wished that he managed to make things right before they did.
The phone was still ringing. They've probably gone out he thought. He cursed himself for not calling earlier. No one would be home at on a Saturday night. The thought of watching TV or going out alone made him feel sick. He had to meet someone. Anyone. He needed to talk. Talk about what? He had no idea but there was something definitely the matter with him.
This morning, leaning over the window he saw himself falling down and looking up at himself his mouth open. A soundless scream. He shrank back from the window laughing nervously with the sound of his wildly beating heart filling his ears.
As much as he did not enjoy his current job he looked forward to leaving his apartment for it. He needed to meet people. Just like he'd taken to playing his music loud enough to annoy the neighbourhood. Like he'd taken to walk aimlessly around his apartment. Like he'd taken to reading till the morning.
He went back to his apartment every evening with his body as heavy as lead. He dragged his feet and took his time inserting the key to open the door. He pushed the door open and stood there watching himself go inside, shut the door and spend the evening with himself. He knew he felt that way because he feared being alone.
"The worst loneliness is not to be comfortable with yourself". Mark Twain
What's the worst loneliness, according to you?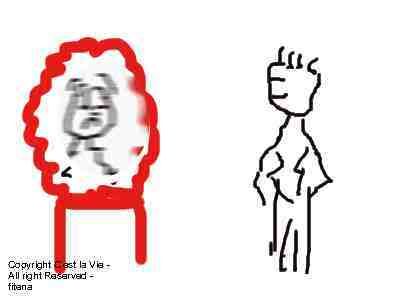 Tags:
C'est la Vie
:.:
Fiténa
:.:
Loneliness
:.::.:
Lonely