The first time I heard of blogs and blogging was late May last year. I started blogging
here
on the 28th of June and on the 16th of August I read with wonder my first comment which said:
"Hey--cool blog! I came here via Jenelle, who recommended you to me. I love the post a while back about the quotes from courts; the one where the witness asked the lawyer if he actually passed the bar exam cracked me up! J*Star"

And what I thought reading the comment was something along the line of Neil's thoughts when he read Terry:

"$%#@&, there is someone out there actually reading this nonsense. Who is this? How did they find me? I better start using a spell-checker."

Of course I was happy that I'd finally been "found" but I couldn't help but wonder about this Jenelle. Was she someone I knew? Was she a friend I'd told about my blog (which I was positive I hadn't)? Was it my one of my sisters? But none of them blogged! I looked up J*Star's messenger and added him to my contact list. Whenever he'd appear online I'd send thank yous followed by do-I-know-who-is-Jenelle-questions.

Jenelle and I eventually met.

So, when I took up on Neil's idea last year, its Jenelle I chose to thank because she read and was nice enough to recommend me.

Its curiosity which prompted me to blog; its the pleasure I have reading you which makes me come back, everyday.

Thank you for the generous thoughts shared,
Hard thought and well written!
Although reading them may quick,
No time can dull intent.

Thank you Tanisha for being first commenter when I moved here.
Thank you all for being everyday commenters.
Happy Your 1st Commenter Thanksgiving Day.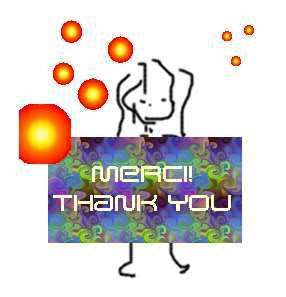 Tags:
C'est la Vie
:.:
Fiténa
:.:
Thank You
:.:
Thanksgiving
:.:
Thank Your First Commenter Day
:.: